Introduction Research Data Management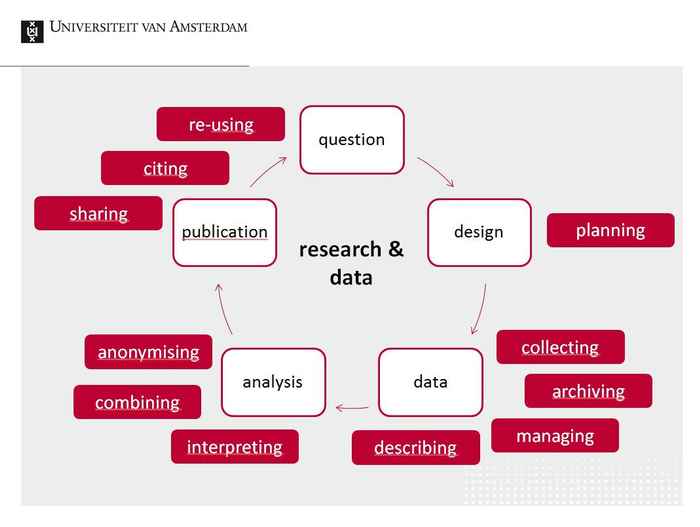 Research data
Research data are data which are collected as part of academic and practically-oriented research in order to answer a research question or to test a hypothesis. All researchers work with data, but what the research data are like depends on the academic discipline and the research method:
Observation, e.g. telemetrics, surveys, neuro-imaging
Experiment, e.g. data from laboratory apparatus
Simulation, e.g. climate models, economic models
Derived data, e.g. text and data mining
Source research, e.g. scans or transcriptions of archive material
They may be in the form of text files, spreadsheets or photos, but also audio and video tapes, databases or models.
Why data management?
Good research data management has many advantages: for yourself, for your research institute, for your discipline and for the world around us.
Ensuring the integrity of your research
Your research data are always accurate, complete, authentic and reliable
You minimalise the risk that your data are lost, damaged or end up in the hands of unauthorised persons
You can share your data with others with a minimum of exertion
On the basis of your data, others can quite simply verify your results
Increasing the impact of your research
Publication and reuse of your data increase the impact of your research
Citation of your data is already an acknowledgement of your contribution to your research field
You contribute to the reputation of your institute as a research organisation
Supporting future use
Published data prevent a needless repetition of research
Your data may be reused to answer new research questions
Your data may be reused by researchers in other disciplines than your own
Satisfying in- and external requirements
You demonstrably satisfy the The Netherlands code of conduct for academic integrity.
You satisfy the policy of research funders in dealing with research data
You show your social responsibility for the funds spent on your research
Management
Research data management begins even before your research has started, as soon as you decide what data you will collect during your research and/or which datasets from previous research you are going to reuse.
During the research project there is the selection of good file names, correct version management, making back-ups and storing data securely, etc.
After the project is finished, the data may be published, linked or not to articles about the research. Data deposited in a data archive are stored safely for the future and may be made available for reuse.